Well, my pontificating pupils, you've suffered through a long, hard six weeks of art historical torture, and now, at last, I bring you the thing that you've all been waiting for, the thing that you came for in the first place--beer. Most likely you were beginning to question the legitimacy of this Zarevna chick's qualifications for undertaking such a thing as a 'survey course,' particularly those among you who took last week's exam. You were probably thinking that I find myself rather amusing, writing all these half-baked things about famous and not-at-all famous works of art, when all I'm supposed to be doing is arranging for the weekly repast. Well, here, my friends and foes, is what you've all been waiting for.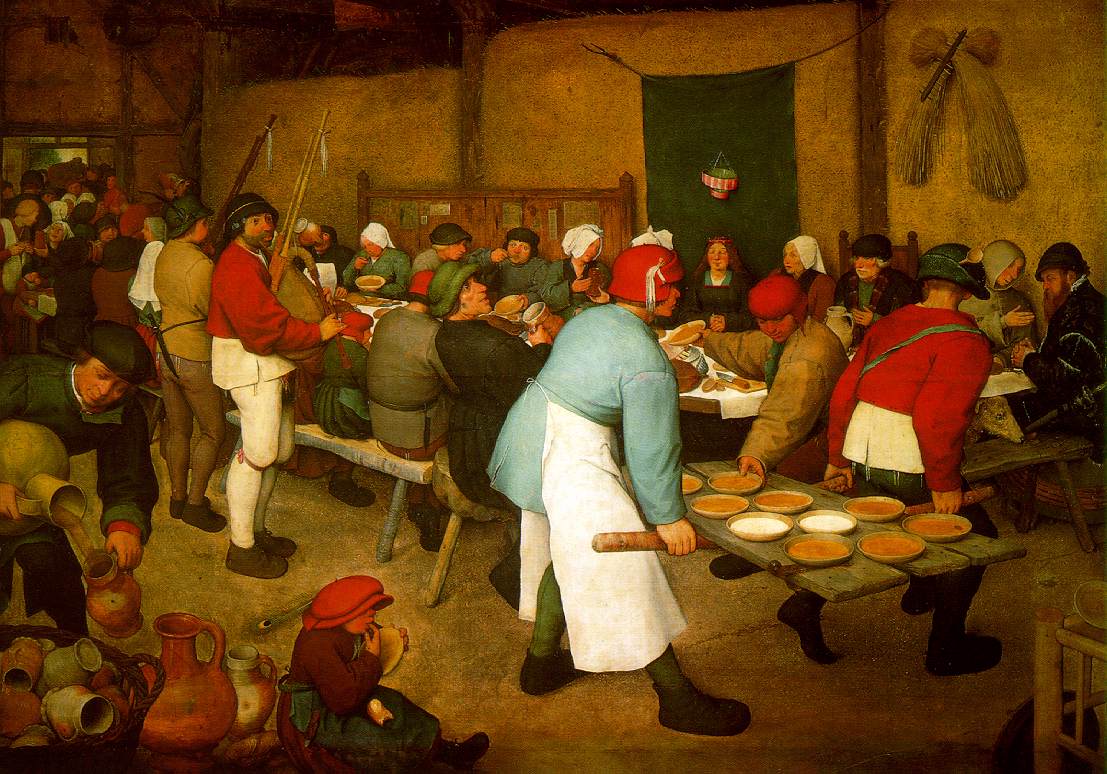 Pieter Bruegel the Elder, Peasant Wedding
c. 1568 (150 Kb); Oil on wood, 114 x 164 cm (45 x 64 1/2 in)
Kunsthistorisches Museum, Vienna

Beer. Jugs and mugs and mouths filled with beer.
This convivial scene is brought to you by none other than Pieter Bruegel the Elder, in some circles considered to be the greatest Flemish painter of the 16th century, and in other circles considered to be a talent who wasted himself on common themes and simplistic caricatures. Called the 'peasant Bruegel,' he carried on the tradition of using contemporary subjects and local settings to illustrate religious and cultural stories to its farthest reaches, while still maintaining the exacting standards of the Flemish school of painters. But what's really important to remember here is that food, beer, and wine, shared in the company of family and friends, plain and chubby and full of folly though they may be, is one of the only chances at redemption that any of us have here on our little Earth.
And no one knows this better than the unfortunate young man named Icarus, who, when placed in the lackadaisical hum-drum of the Flemish sea-side barely captures the notice of the locals, if at all (any geographical features that would indicate hilly or mountainous regions are exclusively the result of artistic license--trust me, I lived there for awhile--this kind of exaggeration or imagination is a common practice among bump-envying Flamands, particularly the painterly types). Although, it is possible that the peasants haven't seen him fall because of all of that drinking among friends business. Hard to say...

Pieter Bruegel the Elder, Landscape with the Fall of Icarus
c. 1558 (180 Kb); Oil on canvas, mounted on wood, 73.5 x 112 cm
Musees royaux des Beaux-Arts de Belgique, Brussels