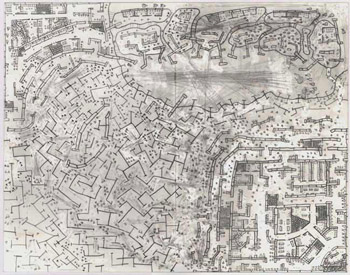 Kim Jones, Untitled (War Drawing)
1996-97
Graphite on paper
11 x 14 inches
ArtPace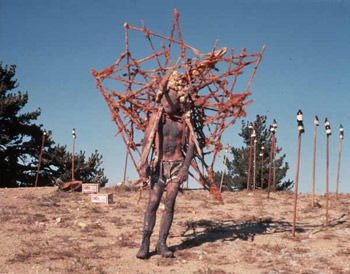 Kim Jones as 'Mudman'
October 1975
October Fest
Mt. Pinos, CA
Because this week marks the date that one year ago was the start of these United States war with Iraq, I could not help but have this thought with me when putting together our little survey for the week. But I promise that I will go no further than this in describing that war or my opinions about it. Rather I will turn to this week's artist.
Kim Jones is a man who is not extremely well known in the larger art world, though he manages a small group of devoted collectors and fans. His work ranges from drawings, to paintings, to sculptural and performance pieces. At present he has a show at Pierogi 2000 (yes, pierogi like the little potato-filled Polish equivalent of ravioli), a disgustingly hip little gallery in the most disgustingly hip area of New York City, which isn't even on the big island anymore-Williamsburg, Brooklyn (a neighbrhood which, to make the connection as to why the gallery is called the thing that it is, used to be filled almost entirely with Poles and still retains the remnants of its past, such as the decaying sign that reads 'PIEROGI' at the top of the door to the warehouse in which the now disgustingly hip gallery of the same name resides). This show is titled, none other than, escape from flatland (yes, of course, all in lowercase letters-they are hip, after all).
Anyhow this show and much of the work of Jones has a very Mad Max kind of feel to it. When viewing these works one can easily imagine racing through deserts on monstrous machinery, Tina Turner in all her armored finery at the helm as you journey toward something unknown. And this image is only reinforced by the thoughts and visions of Kim Jones performing as his 'Mudman' character, summoning some sort of primordial god of the earth to give courage, to strengthen, to wisen, and perhaps even to relieve the burden which he bears on his back.